Marmaris | Göcek | Fethiye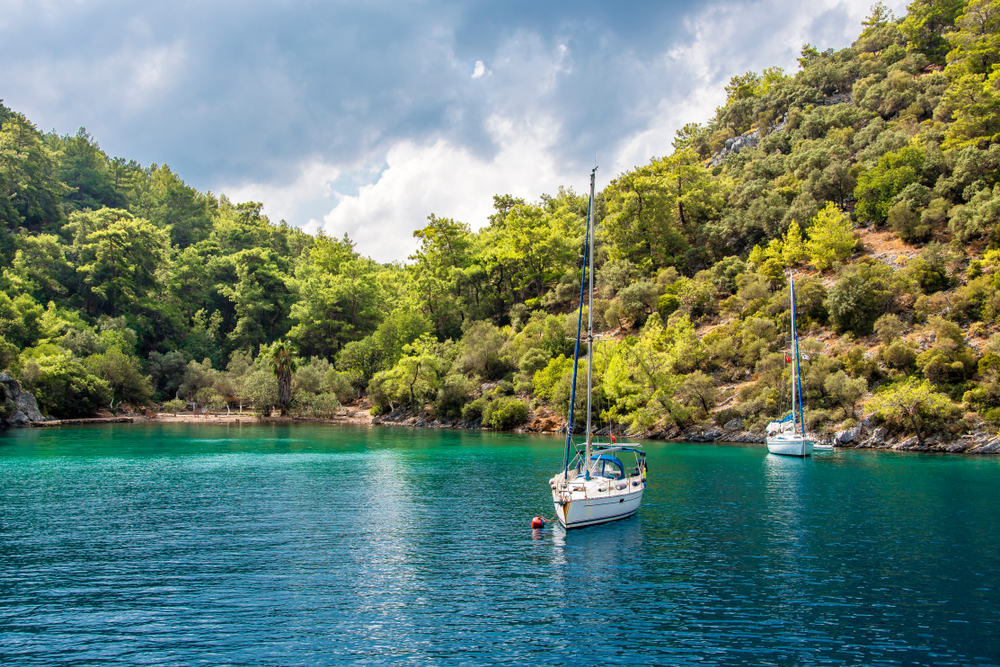 Azure waters mingling with emerald green pine forests… Ancient ruins that make you travel back in time… Unforgettable flavors with the touch of Meltemi wind, blowing gently… The Göcek-Fethiye route awaits you with all its authentic glory. Get ready to live the Mediterranean way.
Best time to visit: May-October
High season: July and August
Perfect for families with children.
Kumlubük
Known as the closest pit stop to Marmaris, Kumlubük has crystal clear waters and hiking trails surrounded by lush flora. Walk to the Ancient City of Amos at the top of the bay and savor the magnificent view. Visit Kumlubük Yacht Club (known to many as "Dutch Ahmet's Place"), an upscale and famous restaurant to enjoy the finest examples of Chinese and Japanese cuisine.
Kumlubük Yacht Club can host 15 yachts and offers water and power services.
Ekincik
Ekincik is the ultimate sanctuary with its sandy beach, pine forests and peaceful atmosphere. As a sheltered bay, it is also great for water sport enthusiasts. The bay hosts My Marina Yacht Club, one of the favorite spots among sailors to moor and stay overnight. Known for its impeccable service, the club was frequented by celebrities and royals over the years, including Dustin Hoffman, Sting, Uma Thurman, Princess Caroline and Prince Charles.
Ekincik is a large bay with several mooring spots. You can anchor off the beach at the head of the bay or moor to the jetty in the center. Meanwhile My Marina Yacht Club can host 67 yachts and offers water, power, waste collection and laundry services.
Dalyan
You can arrange a day trip to Dalyan while visiting Ekincik (there are boat tours) and see the mesmerizing Lycian rock tombs. Bringing history and nature together, these tombs were carved into the sides of the mountains for kings and other high-status individuals. Another significant cultural heritage you can explore is the 2500-year-old Ancient City of Kaunos, which includes temples, a Roman bath and an amphitheater.
Sarsala Bay
Don't miss one of the most beautiful and sheltered bays of Göcek: (Big) Sarsala. Drop your anchor in turquoise waters to spend the night, however note that the bay is pretty crowded in high season. Enjoy water sports or follow the paths around the beach to discover the area.
Definitely pay a visit to Little Sarsala Bay just in the south. Have a delicious meal at the cozy Gözde Restaurant, which has a shower and a jetty that can host more than 30 yachts.
Hamam (Cleopatra's) Bay
Also known as "Cleopatra's Bath", this bay is another gem where shades of blue and green merge into picturesque views. Legend says that Roman general Mark Antony built a Roman bath for Cleopatra as a wedding gift but it was destroyed because of a series of earthquakes. Here you can snorkel to explore underwater ruins, take a walk alongside the goats of the region or drop your anchor and watch the stars in stillness. A must-visit spot in Hamam Bay is Adaia: have a traditional Turkish breakfast under olive trees or a delicious cocktail at sunset.
Adaia has a restaurant, bar, library, lounge and art space. Its jetties can host 30 yachts. 
Tomb (Taşyaka/Bedri Rahmi) Bay
It was 1974 when famous Turkish artist and poet Bedri Rahmi Eyüboğlu painted his iconic fish figure on a rock at this bay. That's why the place is widely known as "Bedri Rahmi Bay". You can see many Lycian rock tombs between the trees, hike to the top for amazing scenery or try local dishes at one of the restaurants on the shore. Tomb Bay is also a great spot to watch the full moon rising over the sea.
You can go stern to a restaurant's jetty (it is expected from you to have a bite to eat), which can offer water and power services. On the starboard side from the entrance of the bay, there is a water spring where you can fill your tank. 
Kapi Creek
Kapi Creek (Göbün) is one of the most popular and sheltered bays of Göcek. Jump into the water as soon as you wake up, swim among Byzantine ruins or go trekking in greenery. Head to Göbün Restaurant (also known as "Muammer's Place") for superb mezzes, village bread and lobster pasta.
There are wooden jetties on the east and south sides of the bay where up to 50 yachts can moor.
Tersane Island
Tersane is the largest island in Göcek and a good alternative to stay overnight. It gets packed in the summer (especially from 10.30 to 16.00) but is lovely when crowds are gone. You can enjoy a sunset walk and discover the caves around. There is also a restaurant built on Byzantine ruins.
Tersane Island can host 25 yachts, we suggest mooring stern-to. There is also a jetty in front of the restaurant which can host 15 yachts.
Yassica Islands
Yassıcalar is a group of several big and small islands. Anchor on the north side, which offers the best swimming spot. The largest island has a beach and a small lake, perfect for families with children. Watch the glittering lights of Fethiye (or the full moon if you're lucky) at night and the sunrise in the morning. With its underwater world, Yassıcalar is also a prime location for scuba divers.
There are many mooring buoys and bollards but be careful while maneuvering shallow waters between the islands.
Gemiler (St Nicholas) Island
Adorned with Byzantine ruins, Gemiler Island has an impressive view both from land and sea. History enthusiasts will love this place, as it is believed that St Nicholas established a retreat here after escaping persecution from the Romans. Ruins of churches, houses, tombs and cisterns make people think that the island was once a religious center. 
The narrow strait between the island and the mainland is a great anchorage for swimming and spending the night. 
Kalemya Bay
Kalemya is one of the serenest bays in Fethiye where blue and green unite in the most enchanting way. Here you will find Hillside Beach Club's main beach. Yachts can moor to the jetty on the south side of the resort, however keep in mind that rates are high if you decide to stay overnight. End your day by dining at one of the a la carte restaurants, sipping your drink at the bar or dancing barefoot on the beach.
Turunç Bay
Getting its name from the orange trees and fountain nearby, Turunç Bay has perfectly still waters nourished by fresh sources. Pay a visit to Yazz Collective (only accessible by boat), one of the most elegant hideaways in Fethiye. The venue has a restaurant, bar, lounge, spa, gym, boutique and art gallery. Moor here to feel the Mediterranean spirit in an atmosphere where luxury, comfort and sustainability meet.
You can also moor alongside the western shore of the bay with breast ropes. Be careful if you're going to anchor as the bottom is rocky.
Aşı Bay
Aşı Bay is a popular destination among day-trippers and divers, however you can prefer to spend one night here on your way back to Marmaris. Known for its breathtaking underwater caves, the bay offers great scenery for marine photography. There is a facility and a beach on the shore.
The northwestern part of the bay is the best spot for stern-to mooring. There is a restaurant (accessible by car), note that it does not offer water or power service.