Marmaris | Yeşilova | Hisarönü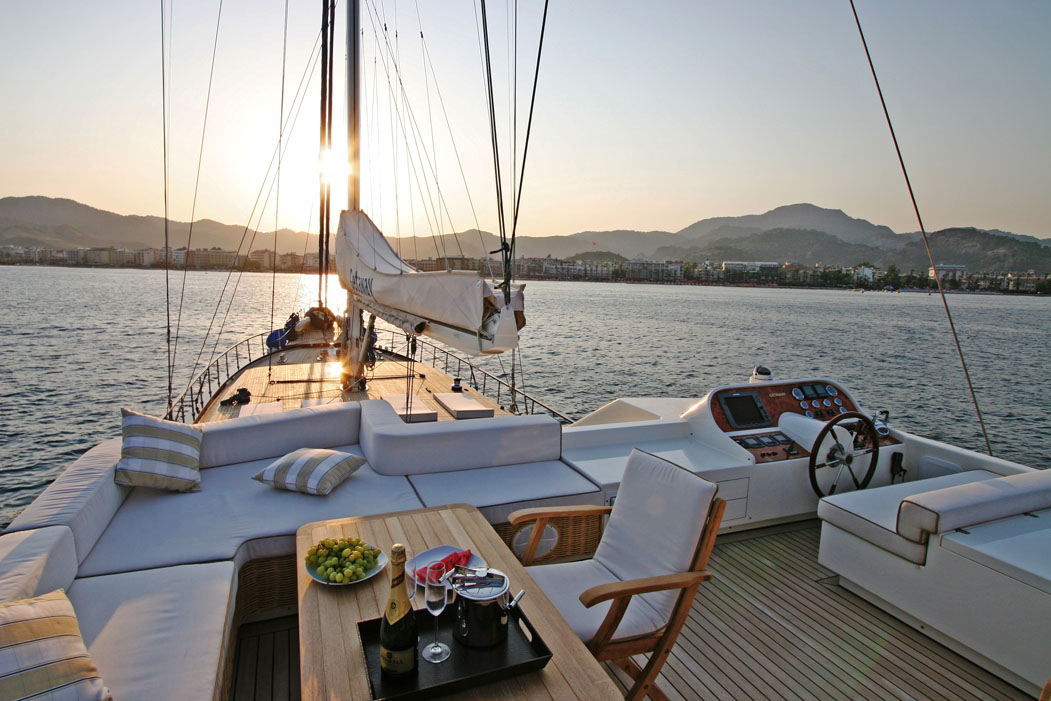 Marmaris-Yeşilova-Hisarönü
A variety of bays, each unique on its own, where you can feel the stillness or dance barefoot on a beach… Vast mountains and ancient sites merging with sparkling waters… Many amazing sunrises and sunsets accompanied by the mesmerizing smell of pine forests… These are just a few of the experiences you will savor on this route. Bay hopping at its best!
Best time to visit: April-October
High season: July and August
Perfect for families with children.
Çiftlik
Çiftlik is a popular stopover among those going in and out of Marmaris as there are several facilities offering their services. (The bay is frequently visited by day trippers too.) With its sandy beach and clear, still waters Çiftlik is highly suitable for children. You will find many restaurants here: we recommend Rafet Baba's village bread and octopus salad. The restaurant has a jetty that can host 20 yachts.
You can moor to one of the restaurant's jetties/buoys or anchor on the west side of the bay. Power, water, market, laundry, Wi-Fi services available. There is also a large hotel, a new marina and a water sports center.
Gebekse
Right in the south of Çiftlik is Gebekse, the best bay to explore the underwater world. You may even swim with caretta carettas if you are lucky! Those who seek isolation must choose morning or evening hours as day the bay gets pretty crowded when tripper boats arrive. There is also the ruins of a church, which has been subject to many legends and stories.
Gebekse is a protected bay, it is safe to drop your anchor or go stern-to by taking a line ashore.
Serçe
You must have keen eyes to find the entrance to Serçe. Swimming at this canyon-like bay is an unforgettable experience. We recommend you to stay overnight and jump into the water as soon as you wake up. Fun-fact: a 11th-century Byzantine shipwreck was discovered here. The remains of the ship and glass objects found inside are exhibited at Bodrum Museum of Underwater Archeology.
There is a restaurant named Captain Nemo's Farm, which offers shower and Wi-Fi services. You can use one of the restaurant's buoys or take lines ashore.
Bozukkale
Welcome to one of the most historical bays in Turkey: Bozukkale, home to the city of Loryma in ancient times. Walls of a Hellenistic castle will salute you at the entrance. You can walk to the top to see the ruins closely and watch the beautiful sunset. There are several laidback restaurants serving delicious food and they even bring freshly baked village bread to your yacht in the morning.
The restaurant closest to the ancient ruins is Ali Baba, which has a jetty that can host 20 yachts. Offers shower, power and water services.
Oğlanboğuldu
Now this is a spot not to miss! Embracing dazzling shades of blue, Oğlanboğuldu is perfect for an amazing swimming break. However the bay does not protect your yacht against meltemi, so visit it in calm weather. You can anchor in the shallows between the island and the mainland.
Oğlanboğuldu is not a good choice to stay overnight. If it is crowded during the day, you can visit the bay just south of the cape.
Söğüt
Serenity, sincerity and delicious seafood… Söğüt, a fishing village, has become quite popular in recent years but still remains authentic. The sky turns an alluring red when the sun sets behind the Greek island of Symi right across the village. Indulge in some octopus and calamari, then watch the moon's reflection on the sea.
There are several great restaurants in Söğüt. Offering shower, power and water services, Octopus Restaurant also has a jetty that can host up to 30 yachts. You can also call them in advance to fill your fuel tank.
Adaboğazı
Located at the entrance of Bozburun, Adaboğazı is in-between Kızılada and Kiseli Ada. Here the wind blows gently even on the hottest days and the sea is sparkling turquoise. Swim straight to the shore (or use your dinghy) and take a walk amidst Byzantine ruins or pick up some sage, caper and thyme in season.
Adaboğazı is great to stay overnight in calm weather. You can anchor in front of the two islands and take lines ashore.
Bozburun
Bozburun is one of the most popular spots on this route and also a hub for sailors. It hosts the iconic Bozburun Yacht Club, which involves an extreme sailing training center, a restaurant, a boutique hotel and a library. Try Zeynep Hanim's unique recipes and see Seddülbahir, the boat of legendary Turkish sailor Süleyman Dirvana.  
Bozburun Yacht Club offers power, water, laundry and Wi-Fi services. You can also visit the harbor for water, power, fuel supply and grocery shopping.
Dirsekbükü
Dirsekbükü is the most protected bay in the area (no matter how the weather is) and finding a place can be difficult in high season. However, try to get a spot as it is such a joy to stay overnight here and dive into the sea first thing in the morning. Don't forget to buy village bread and gözleme from Niyazi's floating market.
You can anchor and take lines ashore or go stern-to. There is also a restaurant with laid moorings and a jetty that can host up to 20 yachts.
Kocabahçe
Kocabahçe is the ultimate bay to become one with nature. Nurture your soul by swimming in the midst of greenery, picking up figs from trees and tasting fruits and veggies grown in the bay's garden. There are two facilities at Kocabahçe: Sailor's Paradise (Fisher Mehmet), where you can have delicious mezzes and Kocabahçe Glamping, where you can do yoga by the sea. 
Sailor's Paradise has laid moorings and a jetty that can host 12 yachts.
Kuzbükü
Kuzbükü is another natural gem. Here you will find Neighbours Restaurant, which has significantly contributed to the bay's popularity. Its cuttlefish, "mustached" shrimp and mücver (vegetable patty) is highly recommended. After enjoying a delightful meal, take a stroll under the beautiful olive and fig trees.
There is a small beach with sunbeds near the jetty. Power or water service is not provided.
Sığliman
Known for its white sand beach, Sığliman is a great anchorage. The bay falls into utter silence when day trippers leave the area. Explore the lush walking trail after snorkeling; in calm weather you may see the circular seagrasses peculiar to the bay.
Sığliman's sandy bottom ensures good holding and the bay is safe even in harsh weather. Besides anchoring you can also go stern-to.
Selimiye
Selimiye, the most extensive supply point in Hisarönü Gulf, transformed from village to town over the years. You will find many services and facilities here: gift shops, bakeries, supermarkets and gourmet markets, butcher, barber, pharmacy, health center… Selimiye's most popular restaurants are Sardunya (which also opened a cocktail and sushi bar in 2021) and Hidayet'in Yeri.
You can tie to one of the jetties/mooring buoys or drop your anchor at the northwestern side of the bay. There are several facilities offering power and water services.
Bencik
Get ready for an extraordinary spot: this fjord-like bay extends inland about 1.5 nautical miles. A haven surrounded by pine trees, Bencik is the perfect place to disconnect: paddleboard during sunrise, watch the full moon or read a book while birds chirp in the background. At the entrance you will see the unmistakable Dişlice Island, which looks like teeth rising into the sky. The anchorage on the eastern side is great for swimming and the southern side is ideal for diving, not to be missed if you find a spot.
Bencik ensures good holding and you can comfortably stay overnight. However, be careful with the bees!
Datça Aktur
Datça Peninsula is the place of tranquility and slow living. Visit Aktur Bay to fill your lungs with its oxygen-rich air and leave stress behind. Swim in azure waters, watch the sunset as the sky turns purple and listen to the sound of silence.
You can anchor and go stern-to in front of the steep slopes on the western side. Note that there is no power or water service.
Palamutbükü
A small village and a holiday destination, Palamutbükü gets its name from the long narrow island just across it. On the shore you can find several good restaurants as well as hotels and pensions. There is also a market and a jetty offering power and water services. Don't forget to taste Datça's famous honey and almonds while you're here.
There is a breakwater with a capacity of 40 yachts. A night entry is not recommended as there are no lights.
Knidos
Part of the Dorian Hexapolis and located between two harbors (east and west), Knidos is a major cultural heritage. Ancient ruins and grand tamarisk trees will welcome you on the shore. The city has two amphitheaters, an agora, temples and terraced houses. You can hike to the lighthouse at the end of the cape and watch the sunset where Aegean and Mediterranean seas unite. Note that eastern harbor has crystal clear waters.
Knidos Restaurant has a jetty that can host 20 yachts and offers power and water services. There is also a quay at the entrance where 20 yachts can moor side-by-side. You can also anchor in 10-12m in the middle of the bay.